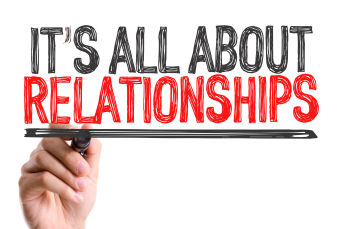 Relationship Marketing - One of the most expensive and difficult tasks facing any business is acquiring new customers. Earning a potential customer's attention, making a convincing pitch and then getting a sale can leads to huge expenses when every step is considered. Acquiring a new customer can cost five times as much as retaining an existing customer.

This presents a serious problem for many companies. With limited resources, is it better to attract new customers or try to hold onto the ones they already have? No company can survive and grow if they are not constantly adding to their customer base, but retaining existing customers is extremely cost effective and profitable.

Many companies separate the two functions and dedicate different areas of their marketing department to work on one or the other. New customers are considered transactional because the goal is to get them to buy, while existing customers require different strategies.

To retain current customers, businesses engage in relationship marketing strategies to continually attract repeat business. While both types of customer must be acknowledged and respected, the goal, ultimately, is to turn every new customer into a returning customer.


Here are Some Examples of Relationship Marketing

American Airlines maintains a comprehensive frequent flyer program that rewards customer loyalty with the promise of free flights, upgrades and discounts.

Dell computers created a special online store for high volume corporate customers. By tailoring the ordering process to the specific customer's needs, Dell was able to expedite many of the hassles corporate technology buyers face. Providing a higher level of service leads to increased loyalty.

One direct mail marketing firm sends out handwritten birthday cards to clients and associates every year. This simple, personal touch helps clients feel like the company cares about them as people rather than simply consumers.

As you can see, Relationship Marketing is important for every business. Let us help you implement a successful Relationship Marketing strategy for your business today.
Give us a call today for a Free Consultation and Marketing Analysis.