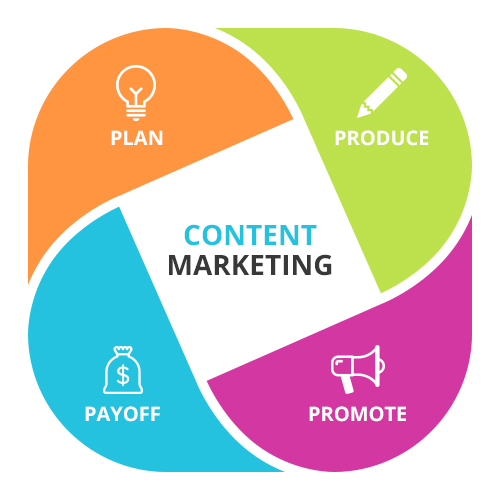 Content Marketing
Content Marketing is the practice of publishing fresh, relevant, and useful content to engage consumers, with the intention of attracting them to your company. Quality content marketing is usually a soft-sell approach. In fact, it hardly looks like marketing at all, but instead looks like authentic information that consumers need. The strategy of marketing through informational content is one of giveandreceive. You give potential customers quality information, in the hopes of attracting and retaining their business.
Websites, blogs, magazines, newsletters, mobile apps, social media, progress reports, news articles, content aggregate sites, and many other venues can be great sources for content marketing.
A strong content marketing strategy includes many different content types:
Blog Posts - Apply your content marketing strategy to your blog strategy. Your blog can and should be used to cross-promote other content, which will help keep posts on a consistent schedule.


Ebooks - If you have Ebooks the content should follow some sort of narrative structure and include a lot of good, visual design. The goal of an Ebook is to educate rather than entertain, but make sure to keep the language conversational if that is consistent with your brand and image.


Infographics - The name says it all: just give readers info and graphics. Use as little text as possible and let the graphic's tell the story.


Slide Decks - Slide decks are a great format for breaking down ideas into simple steps. Keep the slides simple with minimal text in one font throughout and use big images and graphics.


Video - The trick to effectively using video as part of a content strategy is keeping it as timeless as possible. Otherwise, you will have to keep updating videos every year. High-quality video content can also be used to expose your brand to YouTube's large and active audience.


Case Studies - Build case studies with real numbers and complete stories. This will help keep the content focused on the value and results, not the brand.

Give us a call today for a Free Consultation and Marketing Analysis.